Trainings
IJRC offers trainings to organizations and groups on general and specific areas of international human rights protection.  Training sessions are designed to build advocates' capacity to incorporate relevant international legal standards into their public education, litigation, and advocacy campaigns, and to enable them to effectively engage with regional and international human rights monitoring bodies and courts.
Trainings are tailored to the participants' interests, experience, and goals. Please contact IJRC for further information or to schedule a training session.
Upcoming Women's Rights Training: June 19, 2014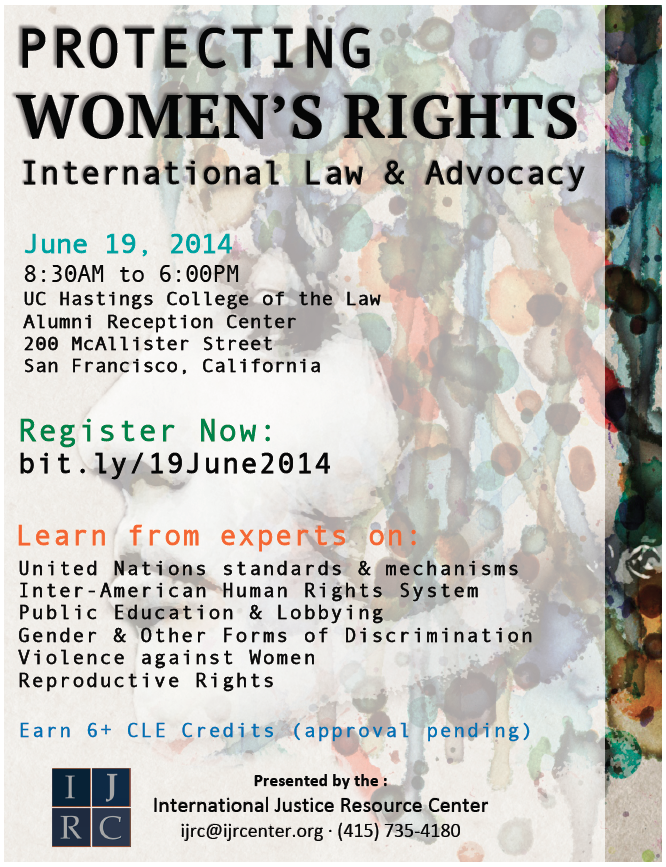 The International Justice Resource Center (IJRC) is pleased to announce an upcoming training seminar on women's human rights.
WHEN: Thursday, June 19, 2014
WHERE: UC Hastings College of the Law, San Francisco, California
WHO: Experts in international human rights law and women's rights will share insights and examples with advocates and attorneys whose work involves violence against women, discrimination against women and girls, and reproductive health. Confirmed speakers include: Katrina Anderson (Center for Reproductive Rights), Connie de la Vega (University of San Franscisco School of Law), Krishanti Dharmaraj (IANGEL), and Caroline Bettinger-Lopez (University of Miami School of Law).
WHY: This training is designed to enable lawyers and other advocates to incorporate human rights advocacy strategies into their work, whether on behalf of individual clients or to bring about changes in policy and practice.
Registration is now open for this full-day conference focused on the international norms and advocacy channels available to help lawyers and advocates address critical women's rights issues, including: gender and other forms of discrimination, violence against women, and reproductive rights. Visit the registration page for additional details.
If you would like to attend, but cannot afford the registration fee, please contact us about volunteering or download the Scholarship Application and submit it to ijrc@ijrcenter.org.
Past Trainings
June 11 and 12, 2013 in San Francisco, California:

The International Justice Resource Center organized this unique training seminar on the international human rights framework and its uses in civil rights and social justice advocacy, at UC Hastings in San Francisco on June 11 and 12, 2013.  Support for this program was provided by the following organizations: the Center for Gender & Refugee Studies, American Civil Liberties Union, Asian Law Caucus, Center for Justice & Accountability, and US Human Rights Network.  Videos of the expert panels, background materials and additional information are available here.
May 18, 2012 in Boston, Massachusetts:
On May 18, 2012, IJRC organized a full day training in Boston on the international norms and mechanisms available to social justice and human rights advocates in the United States.  This training, titled The International Human Rights Framework: Opportunities for Attorneys and Advocates, was co-sponsored by Physicians for Human Rights and the American Civil Liberties Union of Massachusetts.  To see the agenda and presenters, click here.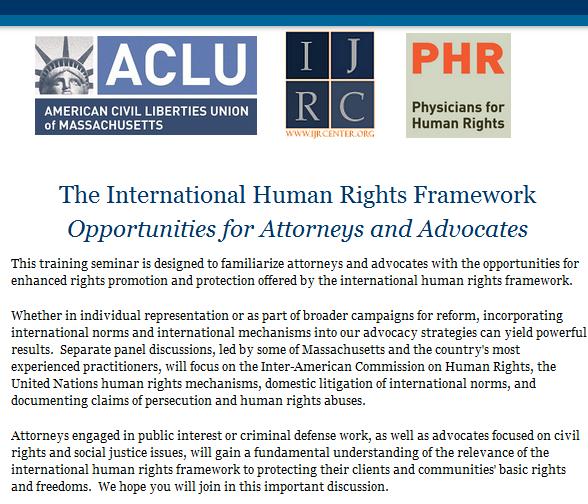 September 11, 2011 in Montreal, Canada:
Another example of an IJRC training is the workshop "Effective Civil Society Organization Engagement with the Inter-American Commission on Human Rights" held at the 2011 CIVICUS World Assembly in Montreal, Canada.  (CIVICUS summary report here; flyer below).