IJRC Events
IJRC regularly hosts events and trainings intended to raise awareness of human rights issues and advocacy opportunities, and to build connections among activists and attorneys working to address inequalities and injustices.  To keep informed of IJRC events in the San Francisco Bay Area, write to ijrc@ijrcenter.org to be added to the Bay Area Human Rights email list.
Upcoming Events
Human Rights in the Time of Trump

What will the 2016 U.S. election mean for human rights advocacy at home and abroad? What strategies are advocates using to identify the Trump Administration's priorities, foster collaboration with civil society, push back against policies and actions that harm human rights, and encourage progressive U.S. leadership on the world stage?
Join us for a discussion with Bay Area-based human rights advocates contemplating the road ahead based on experiences thus far addressing the new administration's policies through advocacy in Washington, New York, and Geneva.
The July 2017 Human Rights Happy Hour will feature a brief panel discussion from 5:30 to 6:00 p.m., including a Q&A period. Before and after the panel, catch up with fellow human rights enthusiasts. Wine and snacks will be provided.
WHEN: Wednesday, July 12, 2017, 5:00 p.m. – 8:00 p.m.
WHERE: 39 Drumm Street, San Francisco (View map)
Please RSVP to let us know you can attend.
Human Rights Happy Hours
IJRC hosts Human Rights Happy Hours in San Francisco in order to provide a forum for discussion of human rights topics of concern, highlight local advocates' work to advance civil rights and social justice, and give community members an opportunity to interact and share information.
Proving Genocide: The Prosecution of Radovan Karadzic
On July 28, 2016, IJRC co-organized a panel providing a behind-the-scenes look at the International Criminal Tribunal for the former Yugoslavia's landmark conviction of Radovan Karadzic for the genocide in Srebrenica and other crimes. The panel was followed by an informal wine and cheese reception. Sponsors included IJRC, the Bar Association of San Francisco, the Center for Justice & Accountability, and Human Rights Advocates. Additional details are available here.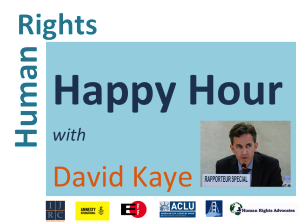 Freedom of Expression in the Digital Age
IJRC hosted an intimate and informal evening reception with David Kaye, the United Nations-appointed expert on freedom of expression, on the evening of March 31st, 2016.
David Kaye is the UN Special Rapporteur on the promotion and protection of the right to freedom of opinion and expression, and an international legal expert who heads the International Justice Clinic at the University of California, Irvine School of Law. As Special Rapporteur, David has raised global awareness of key free speech concerns, including protection of whistleblowers and online anonymity. He visits countries around the world to document and promote respect for freedom of expression, and is one of the United Nations' most high-profile experts.
Earlier in March 2016, he weighed in on the dispute over Apple's encryption of the iPhone, advising the judge deciding FBI's search warrant request on the international human rights standards relevant to encryption and freedom of expression.
This event was co-sponsored by Amnesty International, Electronic Frontier Foundation, American Civil Liberties Union of Northern California, Human Rights Advocates, and the International Law & Practice Section of the Bar Association of San Francisco.

International Law Professionals' Happy Hour
IJRC partnered with the American Society of International Law's New Professionals Interest Group and The Public International Law Committee of the International Law Section of The State Bar of California to host this evening mixer for current practitioners, new professionals, and those interested in entering the field of international law. This
event
was held on November 5, 2015 at the 111 Minna Gallery in San Francisco. Visit our
Flickr page
to see photos from the happy hour.
Baseball in the Time of Cholera Film Night
At the February 13, 2014 Human Rights Happy Hour, we gathered to watch the critically-acclaimed short film, Baseball in the Time of Cholera, a 28-minute view into the world of human rights lawyer Mario Joseph and his fight to ensure justice and accountability for the thousands of lives lost in the 2010-2012 Haiti cholera outbreak. Following the film, attorney Nicole Phillips provided an explanation and update of the groundbreaking case seeking accountability from the United Nations for its role in the outbreak.
ICCPR Review Update
At the November 2013 Human Rights Happy Hour, Nasrina Bargzie, the National Security and Civil Rights attorney at Asian Americans Advancing Justice – Asian Law Caucus and co-chair of the US Human Rights Network's ICCPR Taskforce, presented an overview of the ongoing review of the United States government's implementation of the International Covenant on Civil and Political Rights. 
Prosecuting Jean-Claude "Baby Doc" Duvalier
The July 2013 Human Rights Happy Hour featured Nicole Phillips, a staff attorney with the Institute for Justice & Democracy in Haiti, who provided a timely update on efforts to seek justice and accountability for the systematic human rights abuses committed during the rule of former Haitian dictator Jean-Claude "Baby Doc" Duvalier.
Challenging Surveillance of Muslims in America
The April 2013 Human Rights Happy Hour featured Glenn Katon, Legal Director of Muslim Advocates, who discussed the organization's ongoing work to end discriminatory government practices targeting American Muslims, including Hassan, et al. v. City of New York, a pending lawsuit challenging the NYPD's extensive faith-based surveillance.
Annual Human Rights Day Celebrations

IJRC hosted our fifth annual San Francisco Human Rights Night on December 9, 2016. Together with partner organizations, we hosted an informal evening reception in celebration of Human Rights Day, to allow attendees to connect with human rights defenders from around the Bay Area and learn about current advocacy initiatives. In 2016, the event also featured a silent auction, with proceeds supporting human rights educational and networking events in 2017.
To see information about previous San Francisco Human Rights Night events, visit our Eventbrite page or go directly to the celebrations in 2012, 2014, and 2015.
In December 2011, IJRC hosted Boston Human Rights Night, an evening reception and discussion panel bringing together the legal, academic, and social justice communities of the Boston area to celebrate human rights, learn about one another's work, and discuss international advocacy tools available to them.  The panelists were: Gabor Rona (Human Rights First), Martha Davis (Program on Human Rights & the Global Economy), Christy Fujio (Physicians for Human Rights), Laura Rotolo (American Civil Liberties Union of Massachusetts) and John Cerone (New England Law).
Select Trainings & Speaking Events
From Oakland to Ferguson: Stories from lawyers challenging racial discrimination in the U.S. criminal justice system
IJRC is pleased to co-sponsor a panel discussion organized by Human Rights Advocates on the topic of racial discrimination in the American criminal justice system.
When: Tuesday, October 21st from 5:00 p.m. to 6:20 p.m.
Where: University of San Francisco School of Law, Kendrick Hall, Room 103
See additional details on the flyer.
Women's Rights Training: June 19, 2014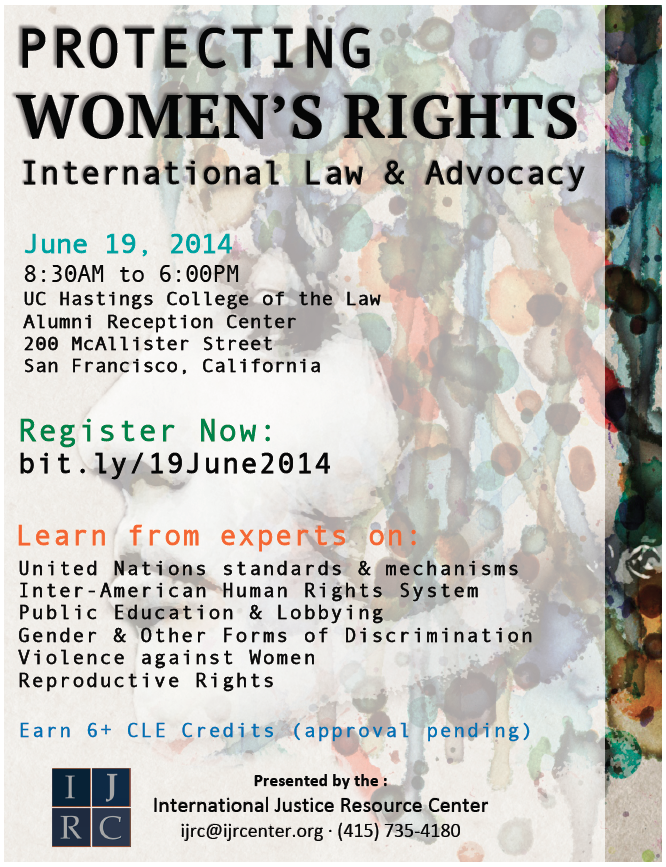 The International Justice Resource Center (IJRC) organized training seminar on women's human rights in June 2014.
Experts in international human rights law and women's rights shared insights and examples with advocates and attorneys whose work involves violence against women, discrimination against women and girls, and reproductive health. Speakers included: Katrina Anderson (Center for Reproductive Rights), Rosa Celorio (Inter-American Commission on Human Rights), Lisa Davis (MADRE and CUNY School of Law), Connie de la Vega (University of San Francisco School of Law), Krishanti Dharmaraj (IANGEL), Ejim Dike (US Human Rights Network), Caroline Bettinger-Lopez (University of Miami School of Law), and Julianne Cartwright Traylor (University of San Francisco).
This training was designed to enable lawyers and other advocates to incorporate human rights advocacy strategies into their work, whether on behalf of individual clients or to bring about changes in policy and practice.
View the background materials here and the videos of each session here.
Human Rights Advocacy Training: June 2013
On June 11 and 12, 2013, IJRC organized an international human rights advocacy training conference entitled, "The International Human Rights Framework: Opportunities for Social Justice & Civil Rights Advocates." Separate panel discussions, led by some of the country's most experienced practitioners, focused on the United Nations human rights mechanisms, the Inter-American Commission on Human Rights, domestic litigation of international norms, local and state level implementation of human rights standards, and documenting human rights abuses.
Other Past Trainings
On June 5, 2013, IJRC's Executive Director gave a one-hour training on the Inter-American human rights system and its application to asylum, at the invitation of the Lawyers' Committee for Civil Rights.
On May 18, 2012, IJRC hosted a full day training in Boston on the international human rights norms and mechanisms available to advocates in the United States.  This training, titled "The International Human Rights Framework: Opportunities for Attorneys and Advocates," was co-sponsored by Physicians for Human Rights and the American Civil Liberties Union of Massachusetts.
On February 13, 2012, IJRC's Executive Director participated on a panel, "International Human Rights Lawyering: Career Pursuits and Pro Bono Practice" at Boston University School of Law.
On September 11, 2011 IJRC presented a training workshop on "Effective Civil Society Organization Engagement with the Inter-American Commission on Human Rights" at the 2011 CIVICUS World Assembly in Montreal, Canada.